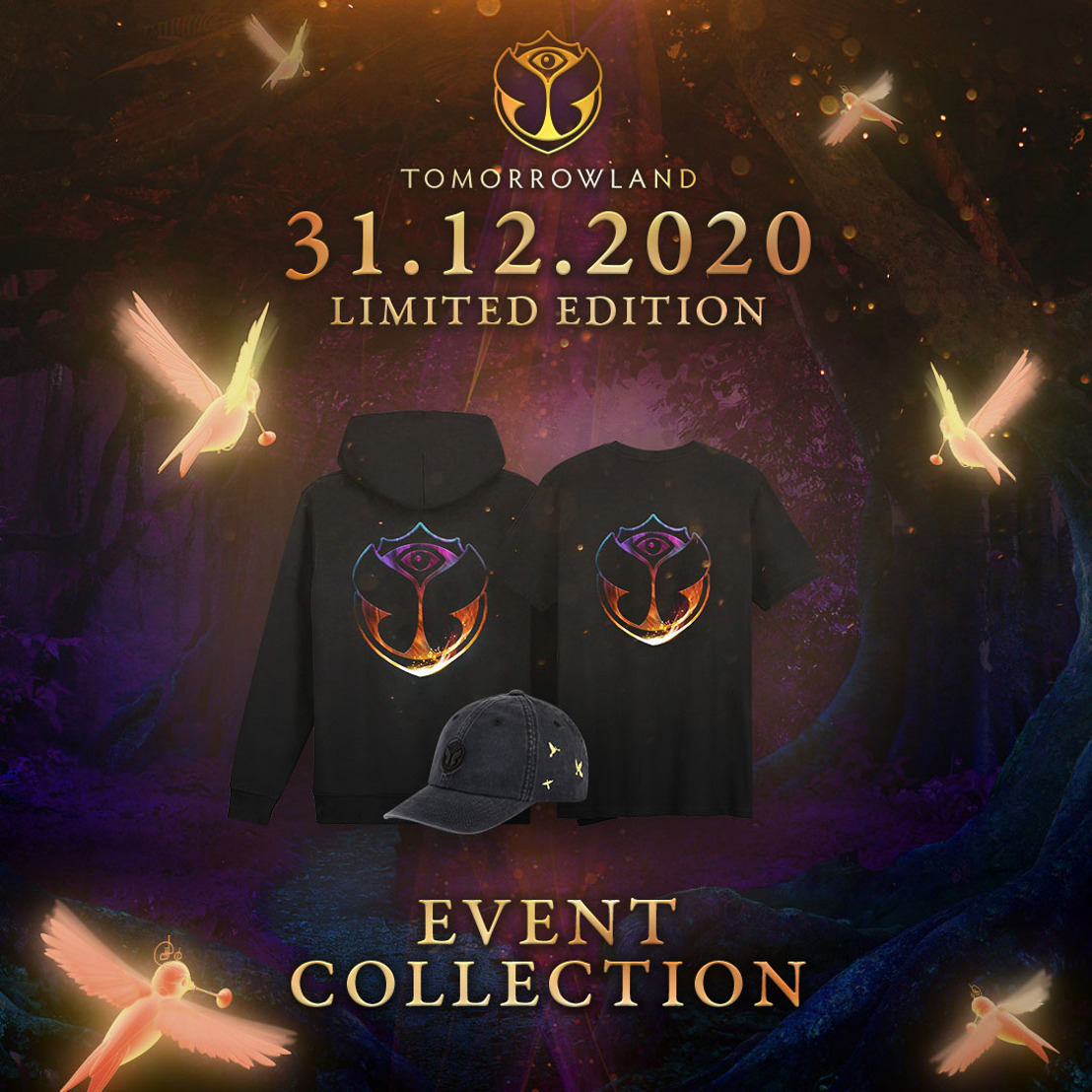 TML by Tomorrowland presents the Limited Edition Tomorrowland 31.12.2020 Event Collection
Make your New Year's Eve memories last longer, inspired by the unique digital New Year's Eve festival
Monday, 21 December 2020 - Only 10 days left until Tomorrowland's magical New Year's Eve celebration Tomorrowland 31.12.2020! To celebrate the end of an exceptional year, TML by Tomorrowland – the festival's apparel & accessories label – now presents the Limited Edition Tomorrowland 31.12.2020 Event Collection. Designed exclusively in light of the unforgettable end of year party, the collection includes 4 limited edition items: a New Year's Eve hoodie, t-shirt, cap and event poster – all available for a limited time only, so acting quickly will be essential if you want to get your hands on these items.
The Event Collection features a beautiful and eye-catching Tomorrowland New Year's Eve artwork and design, inspired by the unique digital New Year's Eve festival and connecting the People of Tomorrow around the world to close off 2020 and ring in 2021 in style.
The Limited Edition Tomorrowland 31.12.2020 Event Collection is available to shop online here.
NYE Event Hoodie: € 75
NYE Event T-Shirt: € 45
NYE Event Cap: € 35
NYE Event Poster: € 15
There's more good news for people who love one-of-a-kind gifts and souvenirs, as TML by Tomorrowland now also gives you the chance to get your very own personalized Tomorrowland Flag! Add your name or a personal message (up to 11 characters) to a premium patch and it will be made-to-order with a high-quality embroidery – the perfect present to share the warm feeling of love, peace and unity.
The customized Tomorrowland Flag is available to shop online here.
Personalized Tomorrowland Flag: € 40
Last but not least, Tomorrowland has partnered up again with the Belgian brand KOMONO for a premium Tomorrowland take on the KOMONO Winston Watch – a brand-new timepiece in a striking, bold and sophisticated look.
The Tomorrowland x KOMONO Winston Watch Silver is available to shop online here.
Tomorrowland x KOMONO Winston Watch Silver: € 99
Tickets & packages for Tomorrowland 31.12.2020 are still available here and get ready to dance into the new year on the beats of 25 of the planet's best artists – including a special countdown at midnight.
About Tomorrowland 31.12.2020
New Year 2021
Thursday December 31, 2020, between 20:00 – 03:00 (8pm – 3am) local time
A unique digital festival on the biggest night of the year, starting at 20:00 (8pm) local time in all time zones in the world
At NAOZ – the digital venue
Open for people of all ages and places
Exclusively on tomorrowland.com
Tickets and Tomorrowland Gift Packages are available here
1 NYE Pass (€20.00): 1 access to all stages
1 NYE Pass + on-demand Pass (€25.00): 1 access to all stages and relive all sets on-demand from January 1 until January 14
1 Home Celebration Pass (€50.00): 1 NYE Pass and 4 on-demand Passes
Info and updates: tomorrowland.com
About NAOZ – the digital venue
NAOZ is a brand-new year-round digital entertainment venue. The revolutionary and future-proof virtual entertainment world will bring musicians, artists and communities across the globe together, offering people a spectacular way to experience digital concerts and performances with the world's best technology in 3D design, video production and special effects – all from the comfort of your own home and accessible on all devices (PC, laptop, smartphone or tablet).